The color palette we use in the design of a web page can become a fundamental part of the user experience. In graphic design, handling color with solvency is fundamental. We must never forget that there is no small detail in design.
Before starting with the tools that will help you choose the best range of colors, I think you may be interested in knowing the psychology of color. This way, you will be able to choose colors that accompany both in design and meaning what you want to convey.
Let's get started!
Coolors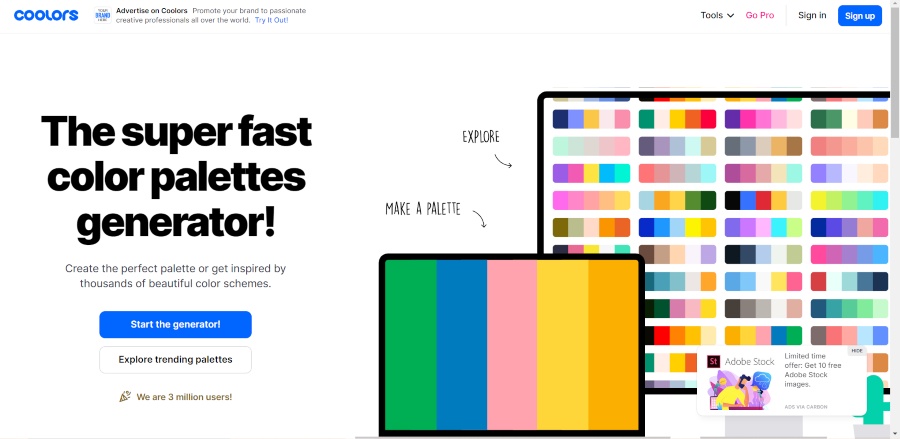 Coolors is one of the most interesting tools for creating color palettes, since it allows us to create or view color palettes created by other users. From a color we choose, and only using the space bar on our keyboard, we can generate color palettes that, once selected, we can manipulate and enrich according to the needs of the project.
In addition, it has a tool that calculates the contrast ratio of text and background colors to achieve the best readability depending on the colors used.
Color Leap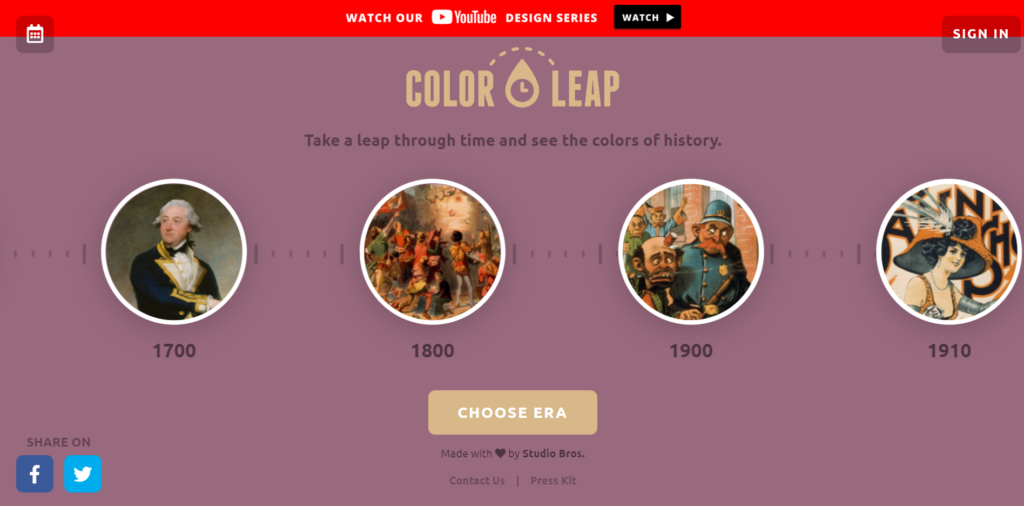 Color Leap has a certain handmade feel to it, which makes it a really attractive tool.
It is not about accumulating color palettes, but goes a step further and its approach is based on generating color palettes from art pieces from different periods.
It also allows to see the palette applied to a real support, from an Egyptian sarcophagus, a Greek amphora, a medieval stained glass window, a Baroque painting or the advertising and propaganda graphics of the last two centuries.
Adobe Color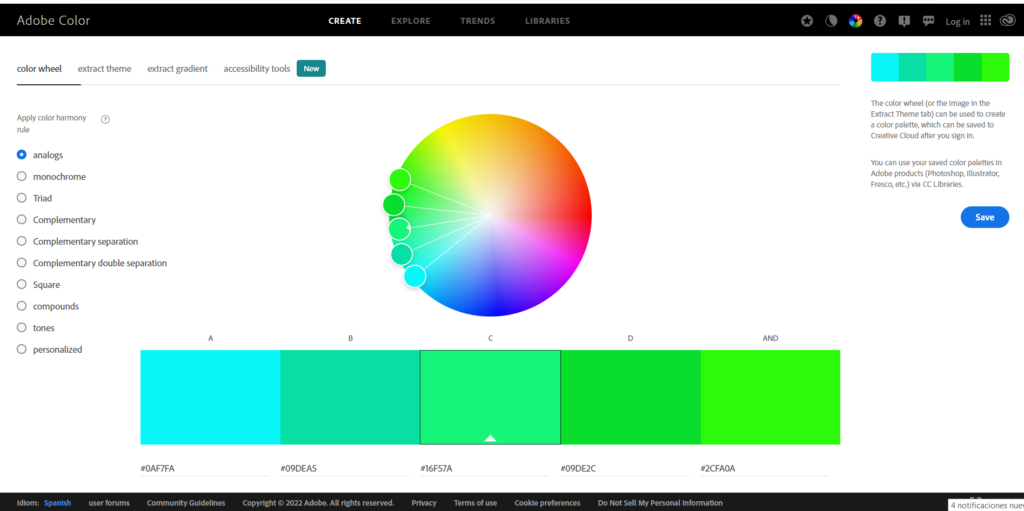 Adobe Color is another popular tool for generating new and interesting color palettes. It is the ultimate color management tool for design professionals working with Adobe programs, with which it integrates seamlessly. You can also find a browse section to see color palettes that other users have created.
Adobe Color has included two useful accessibility tools. One is a contrast checker for legibility and the other is an incompatibility detector for color blindness. Two new features to create visually accessible color palettes and layouts for colorblind and visually impaired people.
Color Hunt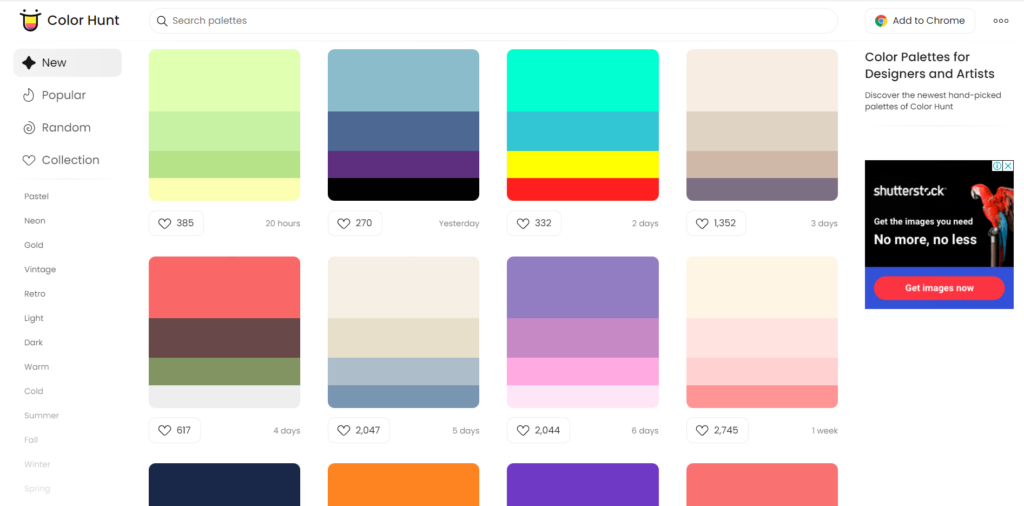 Color Hunt is a color palette selector based on the classification of colors according to a list of concepts such as pastel, neon, winter, nature or earth, so if we already have a concept from which to develop our project, with this search system we can find our colors easily.
It includes a search engine where we can locate palettes based on a specific color or consult selections based on concepts.
It can be useful if we know how to discriminate, have things clear and go to the concrete, because there is a risk of getting lost among such a bulky selection of palettes.
Color Supply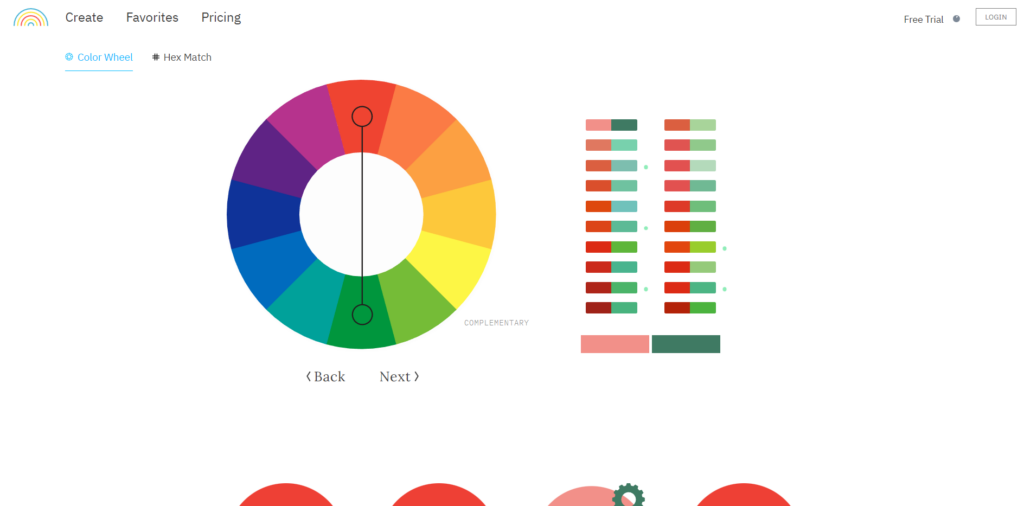 Color Supply is a very easy to use web tool. We could say that it is a tool to start getting familiar with the use of color in the fields of graphic design and illustration.
From a reduced color wheel, you can select the different options of chromatic harmonies, which can be combined in all possible ways.
Colordot Colordot has a really interesting handling, although perhaps not very functional if you do not control the colors well or you are looking for something more automated.
By moving the mouse around the screen, different colors are displayed with their corresponding hexadecimal code, so that by moving up and down, left and right or diagonally across the surface of the screen we get variations in hue, brightness and saturation. Once we have the color we are looking for, we click and the screen is divided in two, showing on the left the chosen color and on the right a new color selector with the same process. We will repeat the same operations until we have made the selection.
Once our color palette is selected, Colordot offers the function to see the equivalence in RGB and HSL, whose values we can continue to manipulate until we get exactly what we need.
Paletton
Paletton is a color palette generator that is very useful when you already have a defined color or colors. With it you will be able to find a combination of complementary colors to combine with the ones you already have.
The highlight is the color map that helps you to visually see the possible color ranges and to see how the different colors can look like.
HTML Color Codes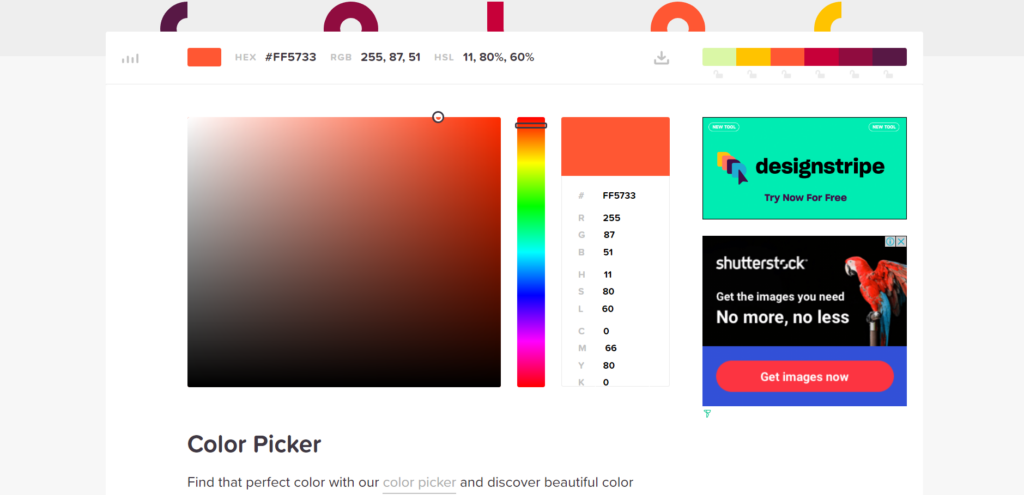 HTML Color Codes is together with Adobe Colors and Colors one of the most complete tools to generate color palettes.
With this tool we can find 8 different ways to generate color combinations: Complementary colors, Triadic, Tetradic, Analogous, Neutrals, Color shades, Color tints and Color tones.
Conclusion
There are many elements such as psychological, balance or target audience that can be key when choosing the range of colors to use.
You no longer have an excuse to generate possible color palettes and choose the one that best fits what you want to convey. Definitely, color should be taken into account for your design!
Color not only attracts attention; it also communicates and sells. You should choose them not only based on what you want to convey to your audience, but on what your brand represents or means.
We can help you choose a color palette for your brand identity and we can also work together on a great marketing strategy. Let's Rock!
Don't hesitate to contact us!
---